Social Events
Within Rochdale, Oldham & Bury Branch the aim is to provide a range of social activities which will appeal to a broad spectrum of beer drinkers in the Branch. This can range from a simple pub social to a long weekend either in this country or overseas in a suitable beer related location, and everyone is welcome. There is the occasional train trip and CAMRAMBLE for the slightly more energetic members of the branch. See our ROB Saddleworth Ramble.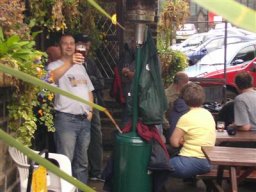 The branch tries to organise a social event each month - pub crawls are popular as are mid-week/Saturday coach trips to breweries or interesting pubs around the country. In the case of coach visits there are various pick-up points in the Rochdale, Oldham & Bury area before we set out to the designated brewery etc, usually arriving there in time for lunch on a Saturday. In the recent past we have organised coach trips to Holmfirth, Dunham Massey, the Black Country, Mallinson's Brewery, the Peak District and Hawkshead Brewery's Beer Festival.
Long weekends usually cover greater distances, and successful tours have been made to the Cotswolds, Thirsk/North Yorkshire and Shropshire and further afield to Belgium (various breweries on different visits), Cologne , Frankfurt, Berlin and Prague.
Like the rest of the branch programme, the social calendar is sent out to members twice a year so if you fancy coming along to the Christmas social, a trip to a local brewery or a long weekend away, you will be very welcome. Check out the for details of forthcoming socials or contact me, The Social Secretary.
Ken Holt
There are many of the pubs and other organisations in our Branch area that run beer festivals, details will be added here: National, Regional and Local Beer Festivals